ENTERPRISE AND FEATURES
I have reported for metro and community newspapers such as The Kansas City Star, The Columbia Missourian, The Washington Missourian, The Oklahoman, as well as The Maneater, Mizzou's student newspaper. I spent two years on The Columbia Missourian's higher education beat, which included breaking news and enterprise coverage of the graduate rights and Concerned Student 1950 protests during the fall of 2015.
"A 'radical form of resistance': MU activists on looking back and moving forward," The Missourian, 11/6/16
"Total solar eclipse offers small towns a tourism boom -- if they can get ready," The Kansas City Star, 7/13/16
"Service clubs push against fading influence to find new members," The Kansas City Star, 7/10/16,
"Imperiled Girl Scout camps being rescued from closure in Missouri," The Kansas City Star, 8/18/16
"Part-time professors: Academia's 'working poor' juggle duties, expectations," Columbia Missourian, 3/18/16
"Finally, new jobs for college grads -- just maybe not the jobs they wanted," The Kansas City Star, 6/10/16
BREAKING NEWS
"In Homecoming parade, racial justice advocates take different paths," The Missourian, 10/10/15
"MSA president speaks out about racist incident," The Missourian, 9/14/15
"Loftin resigns as chancellor, effective end of the year," The Missourian, 11/9/16
"Hundreds turn out for grad student rally," The Missourian, 8/26/15
---
INTERACTIVES AND GRAPHICS
In addition to writing, I have supplemented my reporting with interactive timelines and graphics. I'm interested in using data and visual storytelling to engage readers and display information in a variety of ways.
Throughout the fall of 2016, the newsroom received several reports of hazing, racist incidents and use of date rape drugs from MU fraternities. I decided to request incident reports for fraternities across campus. When we received the documents, I and a team of reporters sat down to sort through. Rather than just write up a story, another reporter and I decided to create an interactive timeline with Timeline JS to contextualize the allegations.
"Delta Upsilon Timeline" The Missourian, 10/14/16
I've created a variety of interactive and print graphics to accompany stories. Some accompany hard news stories, like this graphic built with Tableau that accompanied a story about the decreasing amount of state funding for higher education.
Others, like this graphic, accompanied breakdowns of stories and added visual interest to a story.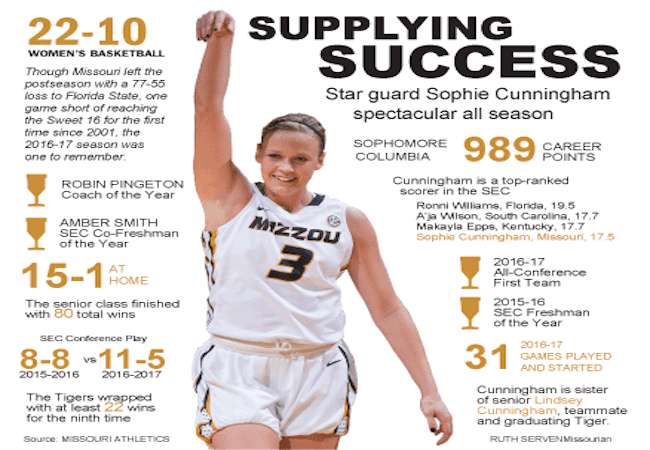 ---
SIDE HUSTLE
In addition to journalism, I write short stories, fiction and creative nonfiction. One of my short stories, "A Message," was published by Epiphany this year, and received the PEN America Emerging Writers Award.